إنضم

7 أبريل 2017
المشاركات

252
الإعجابات

681
النقاط

560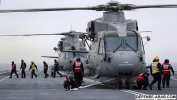 A Merlin helicopter has become first aircraft to land on HMS Queen Elizabeth.
The Royal Navy have announced the first in a series of aviation milestones for the supercarrier. According to the Royal Navy it fell to 26-year-old pilot Lieutenant Luke Wraith from Yorkshire to set the 14-tonne helicopter safely down on the aircraft carrier.
Lt Wraith, of 820 Naval Air Squadron said:
"I was pretty nervous – not about making a safe landing, but knowing that every other pilot in the Navy would watch the footage and critique it.
I'm actually quite surprised it ended up being me because I only got my flying wings 18 months ago – I was expecting it to be someone much more senior."
Watching the historic landing from the ship's 'aircraft control tower' – called the Flyco – in the rear of HMS Queen Elizabeth's two islands was the man in charge of all her flying operations, Commander Mark Deller.
"I sense all my team are pleased to be off the wall and back at sea, doing what we do best. There are smiles everywhere on deck and that's a good sign. Operating live helicopters adds another dimension to our understanding of how our flight deck behaves.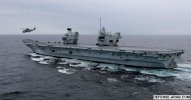 We've proven our initial ability to operate aircraft safely. Now our focus is getting the ship and all her systems fully tested and set to work ready to commence full fixed wing flying trials next year."
Also observing was Captain Jerry Kyd, Queen Elizabeth's first Commanding Officer. He said:
"It's an exciting and historic event which marks the beginning of the ship's life as the nation's flagship and the future of carrier-based aviation. It's been a demanding but proud and exciting week for us, the ship is bustling with activity and it's been fantastic to see this extend now to the flight deck just four days after sailing."
The squadron will be assigned to HMS Queen Elizabeth throughout the carrier's 50-year lifespan, protecting the ship against any submarine threats, and flying personnel and equipment on and off.
Normally based at Culdrose, the squadron is currently operating from RAF Lossiemouth in Scotland. It has been training for more than 18 months for its mission with the supercarrier.
Lt Cdr Moseley, a graduate of the US Navy's Test Pilot School said:
"To have a 'first' in your log book is very special, but to have the first landing on the largest warship ever built for the Royal Navy is something very special indeed.

We were the final link in the chain in a process that has involved thousands of people all working very hard towards this iconic occasion. The challenge for us was to be prepared for any eventuality, but also to have faith in the team whose job it has been to ensure that carrier aviation is as safe as possible."

Stepping back and letting his team get on with the task in hand was 820's Commanding Officer Cdr Jon Holroyd.

"For me, it's a very humbling moment, filled with pride – pride leading a team of such capable individuals, from the maintenance team who ensure the aircraft are prepared and ready, the survival equipment team who ensure the aircrew are best supported and the logistical effort that makes the team work."

https://ukdefencejournal.org.uk/first-aircraft-land-aircraft-carrier-hms-queen-elizabeth/